Are you looking to book a bodybuilding photography shoot? These tips can give you confidence and preparation in advance.
Taking on a bodybuilding photoshoot can be an exciting journey. Here are ten insightful tips to ensure you make the most of your fitness shoot.
10 Bodybuilding Photography Tips
Choose the Right Photographer
Picking a professional bodybuilding photographer who specialises in fitness photography is essential. They will understand the intricate details and techniques required to highlight your physique in the best possible way. A photographer's experience and eye for detail can be the difference between a good photo and a great one.
Understand Your Lighting
Lighting plays a crucial role in fitness photography. A proper lighting setup can accentuate your muscle definition, highlight your strengths, and create dynamic shadows. Whether the shoot is in a gym or outdoors, work with your photographer to understand the direction of the light source and how it impacts the shot.
Pre-Shoot Preparation
A week prior to the photo shoot, avoid processed foods to reduce bloating and water retention. On the day of the shoot, minimise your water intake to further define your muscles. Some bodybuilders also adopt a "carb-depletion and loading" approach to maximise muscle glycogen and make their muscles appear fuller.
Apply a Spray Tan
A spray tan can enhance your muscle definition by creating a contrast between your skin tone and the lights. It also ensures your skin doesn't reflect too much light, keeping the focus on your muscle structure.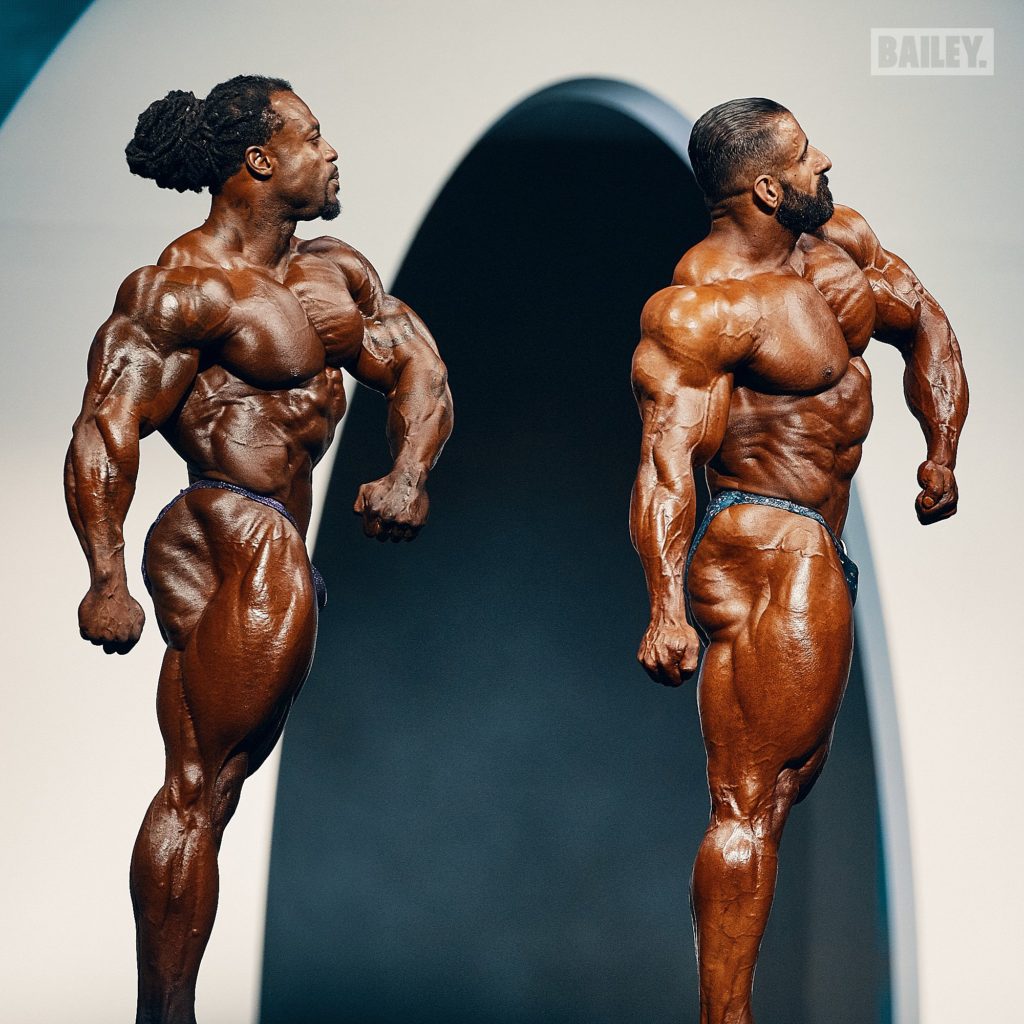 Prepare Your Clothing
Your choice of attire can dramatically impact how your photos turn out. Choose clothing that showcases your physique and makes you feel comfortable and confident. Opt for fitted workout attire in solid, dark colors to emphasise your muscle definition. Avoid logos or patterns that might distract from your physique.
Also, bring a variety of options to the shoot so you can switch up your looks. This will add a wide variety of images to your fitness photography portfolio. Your attire is a part of the storytelling, so choose wisely to best represent your personal fitness journey.
Use Baby Oil for a Polished Look
Apply a light layer of baby oil to give your skin a polished look. The sheen can accentuate your muscles and give you a professional, photoshoot-ready appearance.
Mind Your Body Hair
Trimming or shaving body hair can make a significant difference in how your muscles are defined in fitness photos. Excess hair can obscure the muscle definition, so it's generally a good idea to remove it before the photoshoot.
Check Your Camera Settings
If you have specific preferences, discuss them with your photographer. Aspects like white balance, shutter speed, and aperture can drastically impact the outcome. Professional photographers typically use a digital camera with high-resolution capabilities to capture detailed and high-quality images.
Practice Your Poses
Before the shoot, practice various poses in front of a mirror. Understanding your body angles and how they look on camera can help you feel more comfortable during the shoot. Try a range of poses - static, dynamic, and power poses to add variety to your fitness photos.
Post-Shoot Care
After the shoot, remember to hydrate and replenish your body with nutrients. The effort you put into looking your best for the shoot can take a toll on your body. After the lights go off, make sure to reward your body with a well-deserved rest and recovery.
Follow These Tips For A Successful Photoshoot!
A bodybuilding photoshoot is more than just standing in front of a camera; it's about presenting the hard work and dedication that has gone into sculpting your body. With these tips in hand, you're well on your way to create fitness photos that are both professional and powerful.
As your journey to peak physical fitness culminates, it's paramount to have a professional capturing these precious moments. We specialise in professional bodybuilding photography, helping you transform hard-earned results into timeless keepsakes.
We are adept at using expert lighting, high-resolution equipment, and a keen eye for detail to accentuate every contour, every muscle, and every drop of sweat that represents your dedication.