Wondering how to get the fitness photos you need while sticking to government guidelines? Here's what you need to know.
Coronavirus may have put a temporary halt to your in-person gym workouts, training and coaching – but it shouldn't be stopping your content.
Fitness industry audiences – including your own clients and prospective clients – demand visual content. In fact, this visual content can make or break your lead generation and conversions.
So as gyms start opening up, and audiences want (and need) fitness services, now's the time for fitness professionals to up their game.
If you want to book a fitness shoot, but you're not sure how this works during a pandemic – here's what you need to know…
Is the Bailey Studio open during Covid-19?
Yes! In line with government guidelines, photography studios were allowed to open up from 14th June 2020. This means that The Bailey Studio is open for shoots – and is booking up fast. 
What about social distancing?
The Bailey Studio is a massive 2,300 square foot space, which makes it easy to keep a 2 metre distance throughout your fitness photo shoot.
What's the deal with cleaning and hygiene?
Keeping clients safe is the number one priority at the Bailey Studio. Though it's kitted out like (probably) the best looking gym you'll step into, it's actually a fully private studio.
All of the state-of-the-art gym equipment is deep cleaned in between every client photo shoot. We've also been working with Viroclenz (outbound link to website), who use the latest spraying machines to deep clean the whole studio – including all of the equipment and even the air! Their specially designed, non-toxic solution kills 99.999999% of any bacteria, plus air pathogens, to completely clear the space of any potential viruses – including Coronavirus, Influenza and Norovirus.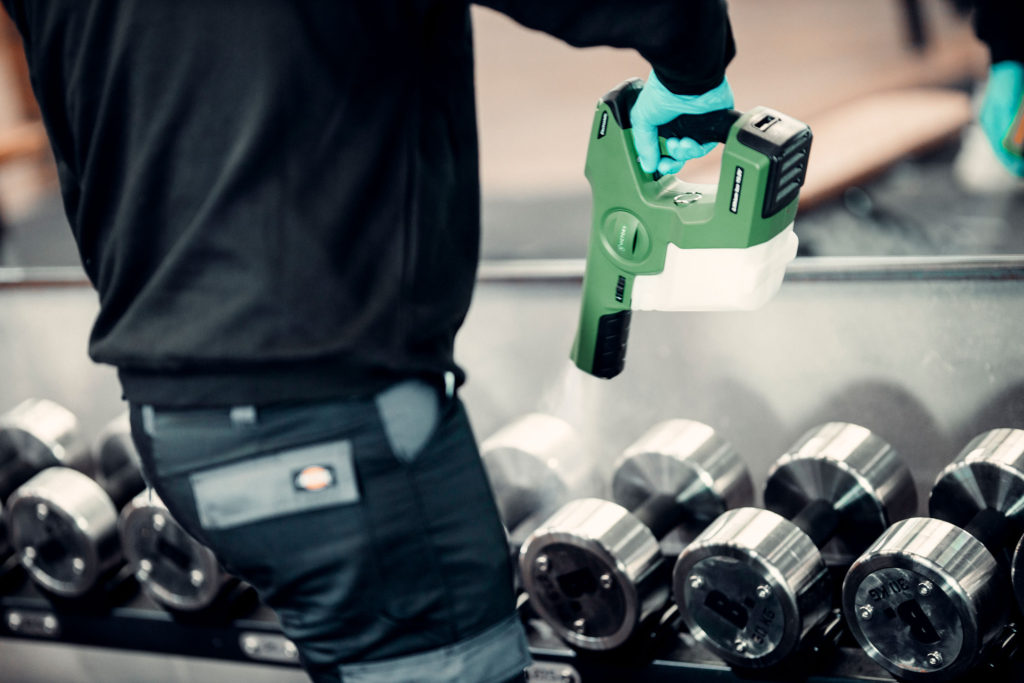 You'll be asked to sanitise when you arrive – and before the shoot begins. You'll also find bottles of sanitiser and antibacterial wipes around the studio in case you need to use them throughout your shoot.
Will fitness photo shoots be different during Covid-19?
The short answer is no. Although the Bailey Studio's working hard behind the scenes to make sure you're safe and secure while you're here, this won't actually impact on your photo shoot. Distancing and hand sanitising aside, you'll get the same Christopher Bailey
How about getting ready for a fitness shoot?
Again, this won't change at all. You'll be able to get ready as you normally would. If you need to use the facility at the Bailey Studio, you can rest assured that whole studio is cleaned in between clients.
When you arrive, you'll be shown to the dressing room and asked to sanitise and prepare for your fitness shoot as normal.
Will photo delivery times be delayed?
Although Covid-9 has disrupted a lot of what we do, our timeline won't change and you can expect to receive your photos within the usual timeframe.
Myself and the Bailey Studio are working hard to keep everything running as 'normal' as possible as the fitness industry begins to open up – and prepares for the rush.
After a four-month hiatus, there's going to be an influx of clients looking for the exact services you're offering. Do you have the content you need to convert them? Drop me a line to set yourself apart today.